Last Order date for Christmas 17th December 2023 - FREE DELIVERY OVER £60.00
Bespoke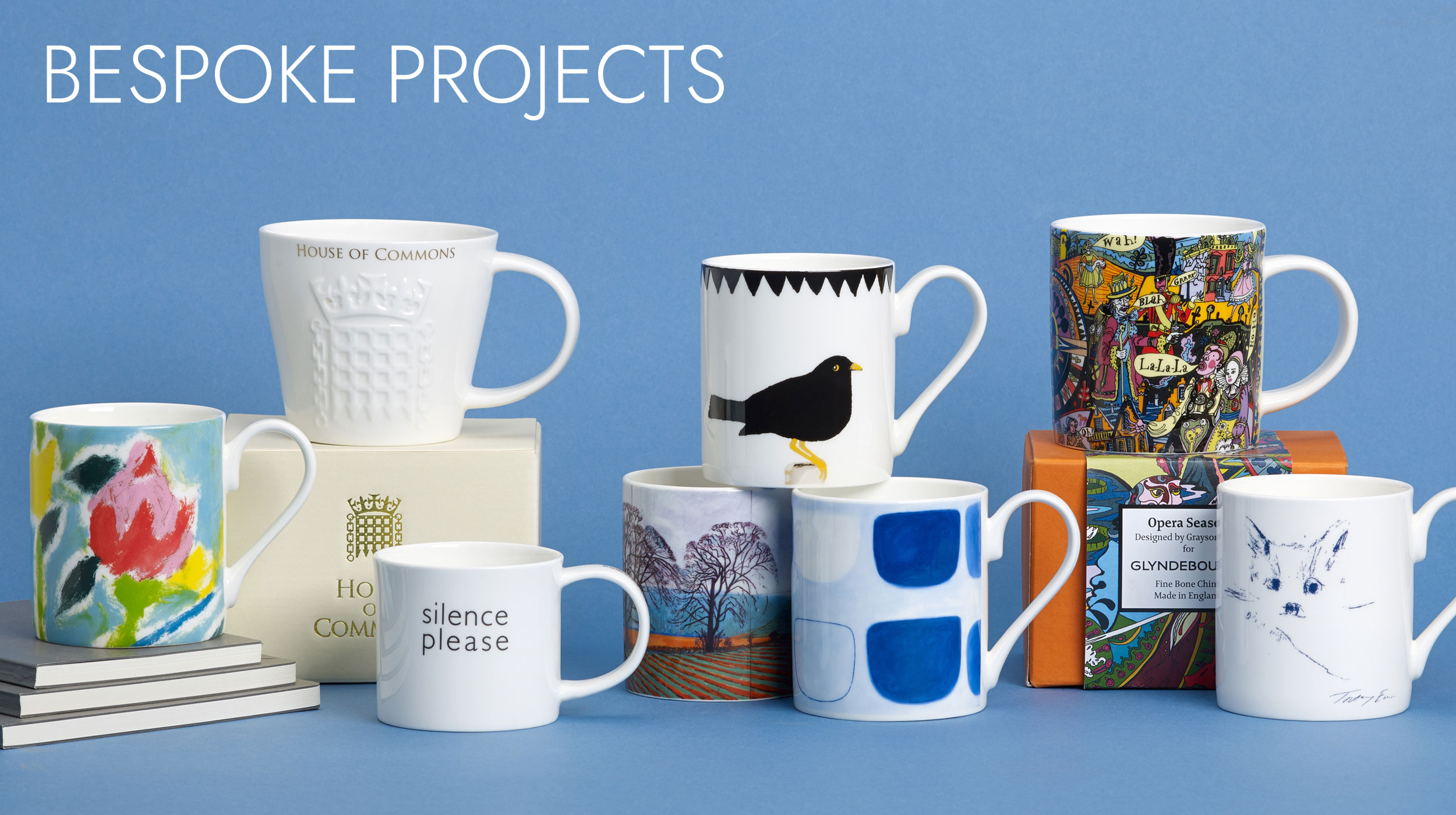 Here at Repeat Repeat we have years of experience of designing and manufacturing bespoke bone china for many prestigious clients - mainly from the Arts, Heritage and Cultural Sector. We can create products by using or adapting existing artwork, or we can create totally new artwork. We can work with very simple one colour projects, full colour process, digital process and new ceramic shape development.
Contact: sales@repeatrepeat.co.uk
Telephone: 01782 845870

Bespoke Projects Include:
Glyndebourne
We were delighted to be asked to work with the Glyndebourne on a variety of bone china and giftware projects using the work of artists including Grayson Perry, Eileen Cooper, Peter Brookes, André Barbe, Charlotte Posner, Polly Raynes and Keith A Petit.
House of Commons
We were delighted to accept commissions to design and produce a bone china for the House of Commons. We used the Portcullis Royal Symbol and modelled it into a raised 3D motif, then added matte gold text to create a beautiful and unique mug.
The Royal Academy
We are proud to work with the Royal Academy on a variety of bone china projects using the work of Academicians including David Hockney, Mary Fedden, Elizabeth Blackadder, Edward Bawden, Terry Frost, William Scott and Tracey Emin. Working alongside the Royal Academy we also produce bone china designs for specific Gallery Exhibitions.
The National Gallery
We are proud to be chosen by the National Gallery in London to produce full colour reproductions of paintings by the Master Artists and apply them to bone china products. Artists include Vincent Van Gogh, Claude-Oscar Monet, Jean-Marc Natier and Norbert Goenuette.
Bodleian Library
Using imagery from the within Bodleian Library we have produced many bone china collections ranging from the very simple and classic Silence Please range, to the very intricate etching design - Aerial View.
Tracey Emin - Emin International
Produced bone china mug featuring a delightful linear monoprint image of a Fawn by Tracey Emin entitled Its What I'd Like To Be.
Julian Opie
This project involved producing large outsized ceramic vases to the Artist's specifications and bone china mugs decorated with Julian Opie's precise graphic images.
David Shrigley
Production of a bespoke bone china - from model to final production run.
The Orient Express
We were pleased to accept a commission to design and produce a bone china mug for the Orient Express.Inspired by the classic Art Nouveau styling of the marquetry interior of the Venice Simplon - Orient - Express train, we designed and produced a beautiful bone china mug with relief patterns and embellished with matte gold.
Lock & Co Hatters
Reproductions of delicate vintage etchings onto bone china mugs.
Whittard Of Chelsea
We were commissioned to design and produce a range of ceramics exclusively for the store.
Museum Of London
A very clever and effective fingerprint design on bone china mugs.
The Science Museum
Produced Bone China Mugs using patterns from molecular structures.
Towner Contemporary Art Museum
We were pleased to be asked to produce striking bone china mugs for this stunning contemporary museum.
Liberty
We have designed and manufacture numerous tableware collections exclusively for the Liberty Department Store in London.
Barneys Japan
We have designed and manufactured exclusive tableware collections and a commissioned to produce an Anniversery Pewter Clock and PictureFrame.
Heals
Heals London Department Store celebrated their Centenary with a bone china mugs decorated with images from a vintage store poster.
Lloyds
Various projects including the design and production of Lloyd's Skyline bone china mugs featuring the iconic Lloyds Building.
Althorp
Develop and manufacture bone china commemorative ware for the Diana Princess of Wales Heritage Center, Althorp.
Royal Shakespeare Company
Commissioned to design and manufacture bone china mugs, and related gifts.
The Cutty Sark
Produced bone china based on the original ceramics from the Captain's Table aboard the famous Tea Clipper.
Thwaites
Thwaites commissioned us to design and produce bone china mugs to be used in their pubs and hotel rooms..